Schedule Your Window Tint Installation
---
Schedule your window tint installation with our online tinting installation scheduler. See when we are open and book accordingly.

---
---
How Window Tint Installation Works With Us...
Enter Online Scheduling - the fast, friendly, easy way to schedule your window tint installation.
Today people want convenience and speed.
Most folks don't want to talk to anyone.
They just want to log on, and shop, make an appointment, or post.
They don't want to be bothered with calling and talking to someone, unless of course they have a question.
Our online booking software puts you in charge all at the touch of your smartphone, or desktop!
Now you can book while in your "PJ's", sitting in front of the TV, or late at night after everyone has gone to bed.

First step, click the GREEN book appointment button below, then follow these easy steps..
Select the type of window tint you want -
Color Stable Dyed, NanoCarbon IR60, NanoCeramic IR80, or our amazing UltraNano Ceramic IR98.

There's even a selection for those that are unsure what kind of window tinting they want - it's called "No Film Selected"
Pick a time slot
Fill in all your information, and tell us what kind of car/truck/SUV/or van you have. 
 Make a NON REFUNDABLE DEPOSIT

(sorry no exceptions)

Click on the appropriate button when you're done.
---
That's it! You're scheduled!
---
What Happens Next?
When the day of your appointment finally comes, you will receive both a text message and an email to remind you of your appointment.
You can also change or cancel anytime before the appointment (as long as it is 2 hours before the appointment or longer) by following the link in the confirmation email you'll receive when you first book.
All you need do then is show up, pick your film (if you haven't done so already), wait or Uber out while we perform your window tint installation, pay the balance once you are happy with the installation of your window tinting, and drive away!

---
---
Why do we offer online scheduling?

As you probably are aware by now, we are NOT like other shops.

We are trying to change the perception of the typical window tinting shop and this is just another way we are out to prove to our clients we are a serious business.

We are doing everything we can to take the hassle out of getting the windows tinted on your car. With our online window tinting scheduler, the hard part is done for you! 
We think you will love how effortless this process is and we look forward to hearing from you soon!

---
---
Window Tint Installation -
Can I Drop My Car Off?
Can I Wait on it?
You absolutely can drop your vehicle off before the scheduled appointment time!
We have a key drop box in the rear of the building for your convenience.
Just park your vehicle in the front of the building, and walk the keys around to the rear of the building.
(Note: If it's raining, place your keys into a zip lock baggie to protect it from the moisture that can damage key fobs).
Window Tint Installation -
Want to Wait?

You can do that too! We have a comfortable waiting room equipped with wifi for your convenience as well as TV (over the air broadcast TV - it's not great, but its free).
---
---
Here's what our online scheduler web page looks like...
Below is what the page looks like where you can schedule a window tinting installation.
Just click on the picture below and the system does the rest all automatically.

---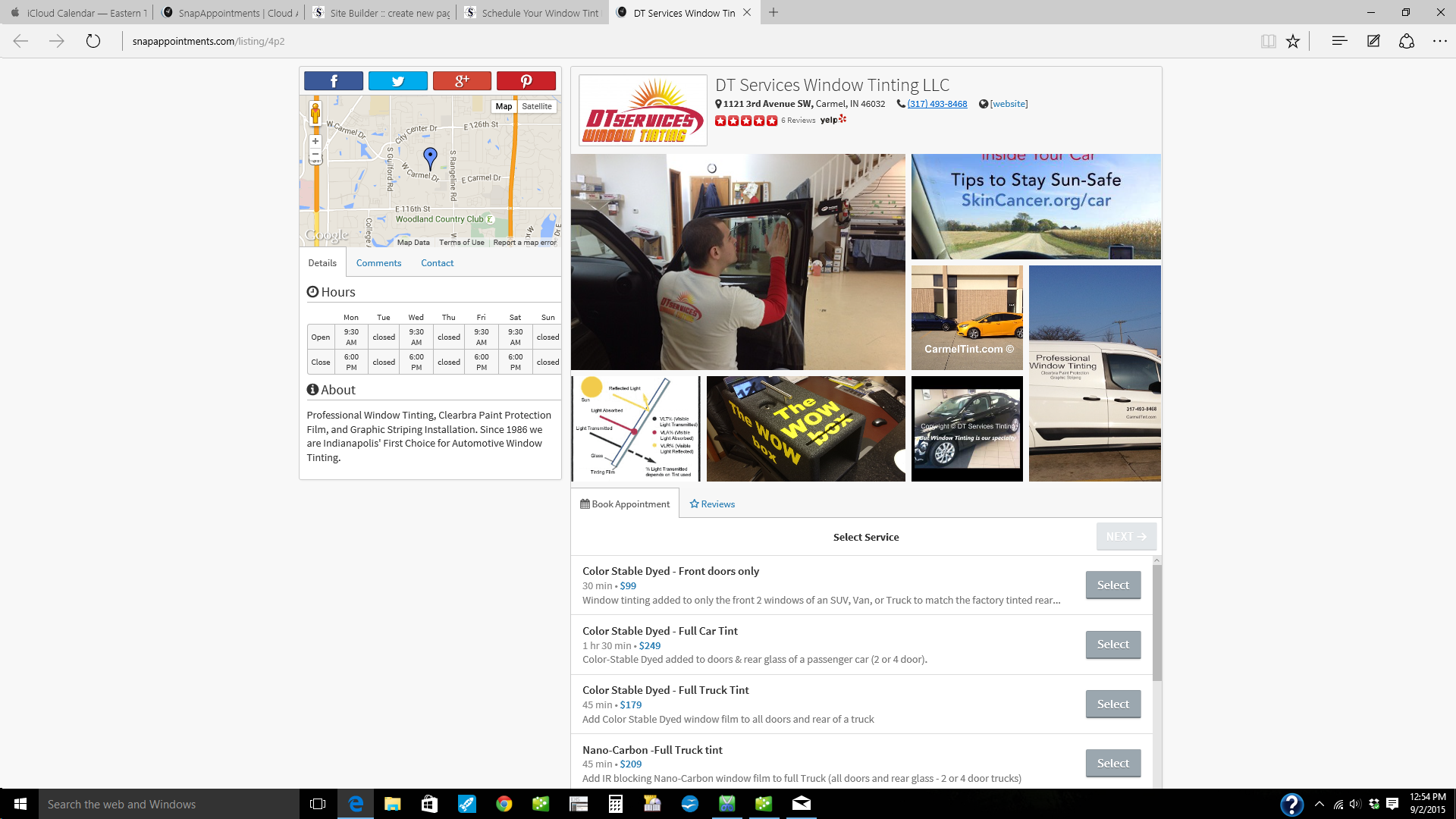 Our Online Scheduler
---
---
---
---