Mustang Stripes
---
Mustang Stripes set the ordinary Mustang apart from all the other Mustangs on the road. Our racing stripes add that individuality to your muscle car and give it that look like it is moving when it is sitting still.
We have extensive experience in the application of accent striping and graphics on vehicles.
From basic "pin-stripes" (two small lines running down the sides of your car) to the big dual racing stripes (dual 10" stripes or larger that go up and over the top and down the back of a muscle cars), we got you covered.
We have added these accents to all kinds of vehicles but feel Mustangs are one of America's premier muscle cars.

---
Mustang Stripes -
Why Should You Consider Them For Your 'Stang?
Adding stripes to a vehicle like a Ford Mustang not only makes it look more desirable but, especially if they are done right by a professional installer, can add value to your vehicle.
Our Mustang Stripes have been designed by a leading industry graphics company. This company supplies stripes and graphics to a wide variety of dealerships and aftermarket installers across the US and the rest of the world.
Many auto manufactures rely on our supplier to make stripes that have that "factory look" so they don't look added after the fact but look like the vehicle was designed around the stripes.
The end result is a high quality, well designed, proper fitted stripe package that doesn't look cheap or purchased from an online store based in a third world country.
Check Out Our Complete Line of Stripes

2015-2017
Mustang Stripes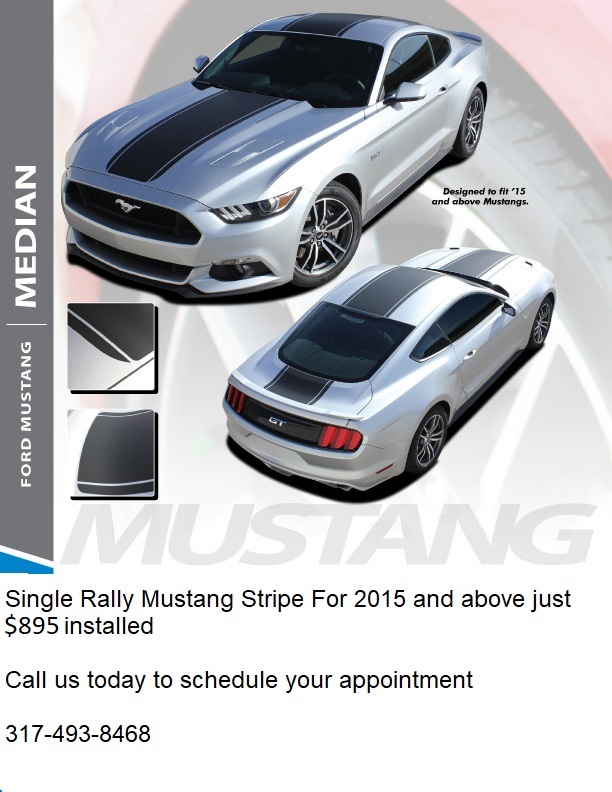 ---
2018 and newer Mustang Stripes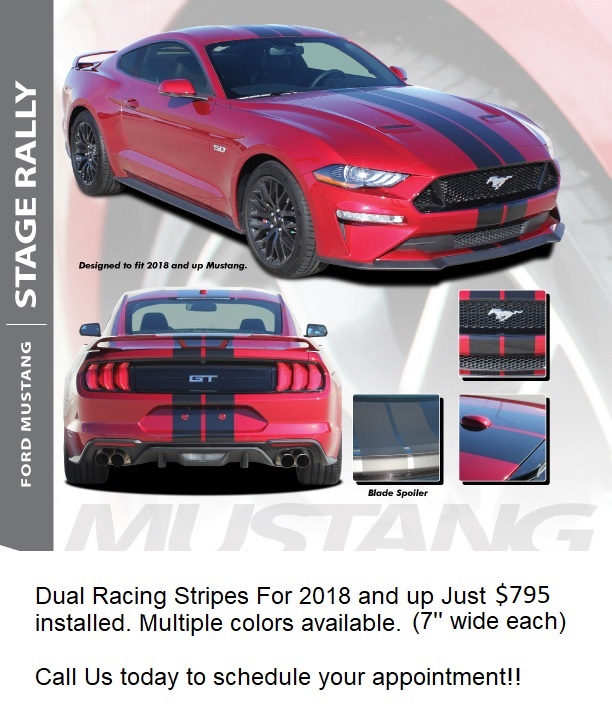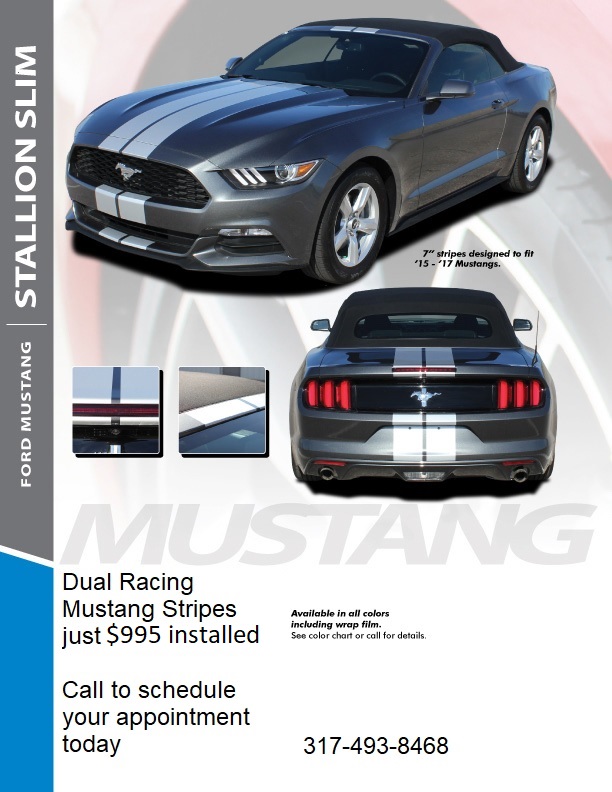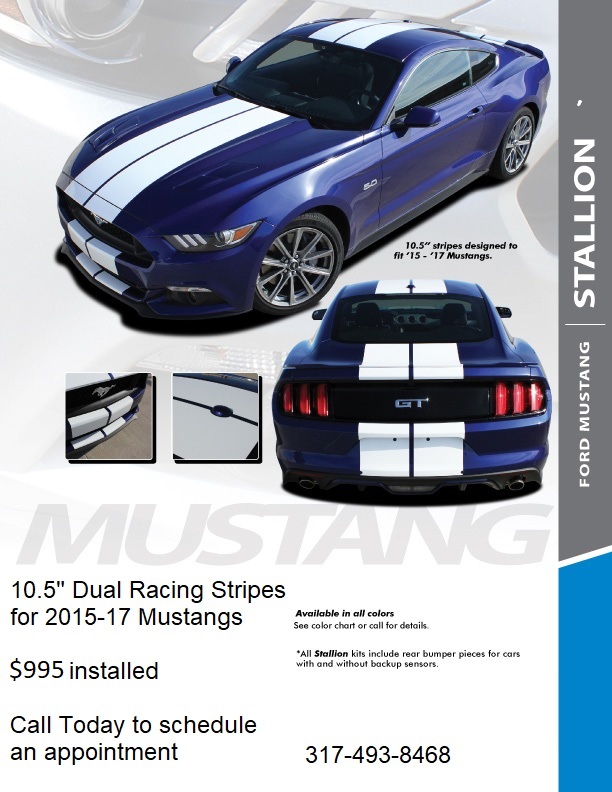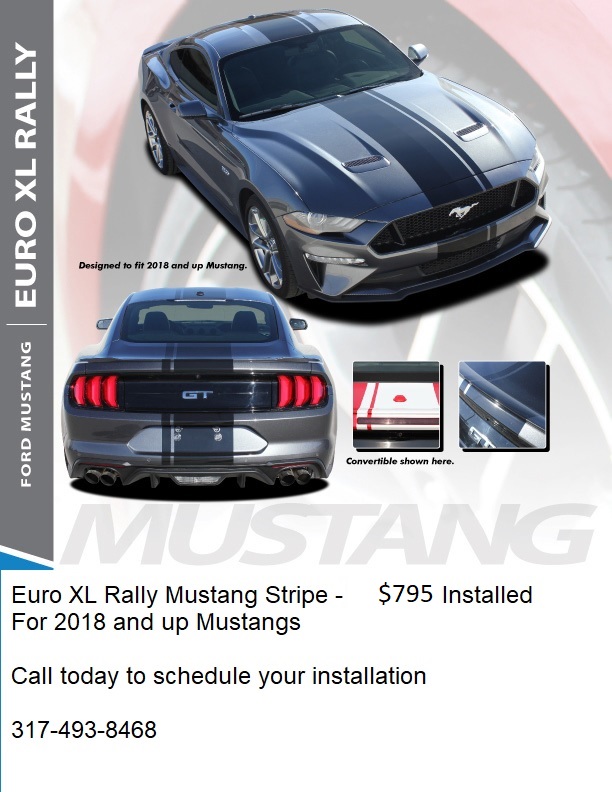 ---
Our Stripes Are Available in Many Colors
Don't just go by the pictures on this site alone to decide what you want in the way of a racing stripe. 
All the stripes we install are available in a wide array of colors to fit nearly everyone's taste. If you don't see something, just ask. Chances are good we can get it for you in the color you want.
We also have Mustang stripes for older models NOT shown here on this website. Just click here to see a comprehensive online catalog of what we have available.
---
---
Mustang Stripes -
The Material Used

We get asked all the time what kind of material we use for our Mustang Stripes.
We only use High Grade Wrapping Cast Vinyls for our stripes.
Wrapping Cast Vinyl has a channeled adhesive that allows the installer to apply the material dry.
This  application is far superior to wet applications and aids in the longevity of the stripe reducing failures
We currently use 3M 1080 and Avery Supreme Wrap vinyls

---
---
---
---
Mustang Stripes -
How Long Do They Last?

Because we use High Grade Wrapping Cast Vinyls for our Mustang Stripes, they last a very long time.
These vinyls carry a 7 year vertical warranty - meaning they will last up to 7 years on vertical applications.
It is important to note that NO MANUFACTURE of vinyl will warrant ANY application to the HORIZONTAL surface of a vehicle.
This is because vertical surfaces of vehicles are exposed to extreme temperatures
Having said that, our stripes out perform all others and last a long time.
This is the same material that auto manufactures use. These auto makers warrant the stripes for 36 months / 36,000 miles
So you should be fine, especially if you garage your vehicle

---
---
---
---
Our Mustang Stripes -
Always Evolving
Because Ford continues to update, redesign and restyle their Mustang models, we are also doing the same to our Mustang Stripes.
As each new model comes onboard, you'll want to check back to see what is currently available.
---
---
---
---