Color Stable Dyed Films -
A Good Choice!
Color Stable Dyed Films offer the best protection with a dyed look that truly enhances any vehicle.
These films last and hold their color for years to come.
Color Stable means just that - stable in color.  
These films will never lose their color, nor will they gradually lighten over time turning eventually clear as they become bleached by the sun.  
These films WILL NOT TURN PURPLE.
How Are Color Stable Dyed Films Made?
---
A lot of technical stuff that can be boring. We will spare you the details.
Basically, the process is known as "extrusion" where the raw material - PET chips (Polyethylene Terephthalate), are melted down and then biaxially stretched into a polyester sheet, meaning it is stretched in the direction of both its length and width.  UV blockers are added at this point.
The end result is a film that will retain its color several years longer than traditional films where the dye is "applied" to the clear polyester.
---
---
---
The following video will help explain the process by which one manufacturer - Global Window Films - goes through to make their color stable dyed films.
---
---
---
How Do Color Stable Dyed Films Block Heat?
---
---
---
---
---
Color Stable film works primarily through increased absorption. A dyed window film is just that, a dye based product. The color absorbs the sun's energy at the glass, reducing direct transmission into the vehicle.
As the vehicle moves through the air at a high rate of speed, the flow of air across the car pulls the heat from the glass away.
At lower speeds, the car is not traveling fast enough to pull the heat away as the air passes over it.
These window films tend to work best when darker so they can attract more heat to the glass. Color Stable window films block about 30% to 45% of heat depending on the degree of darkness of the window film.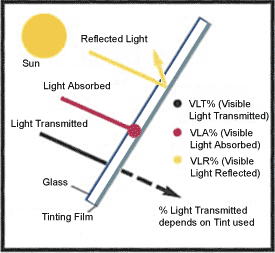 DT Services Window Tinting recommendation
Color stable films are some of the best window films you can put on your vehicle. They won't block out as much heat as our Nano-CARBON film, or as much as our Nano-CERAMIC films, but they will last and perform enough to satisfy most everyone.
If purchased from a reputable facility like ours, you cannot go wrong with these films.  They look good, perform well, and last virtually as long as you own your vehicle.
Our recommendation-
We HIGHLY recommend, sell, and install these films on a daily basis. In fact, these are the only window films we install at auto dealerships we work for.
With that said, there ARE BETTER OPTIONS

---
---
---
---
---
---
---
---
---
---
---
---
---
---